Postet av Christina Wilke den 28. Jan 2019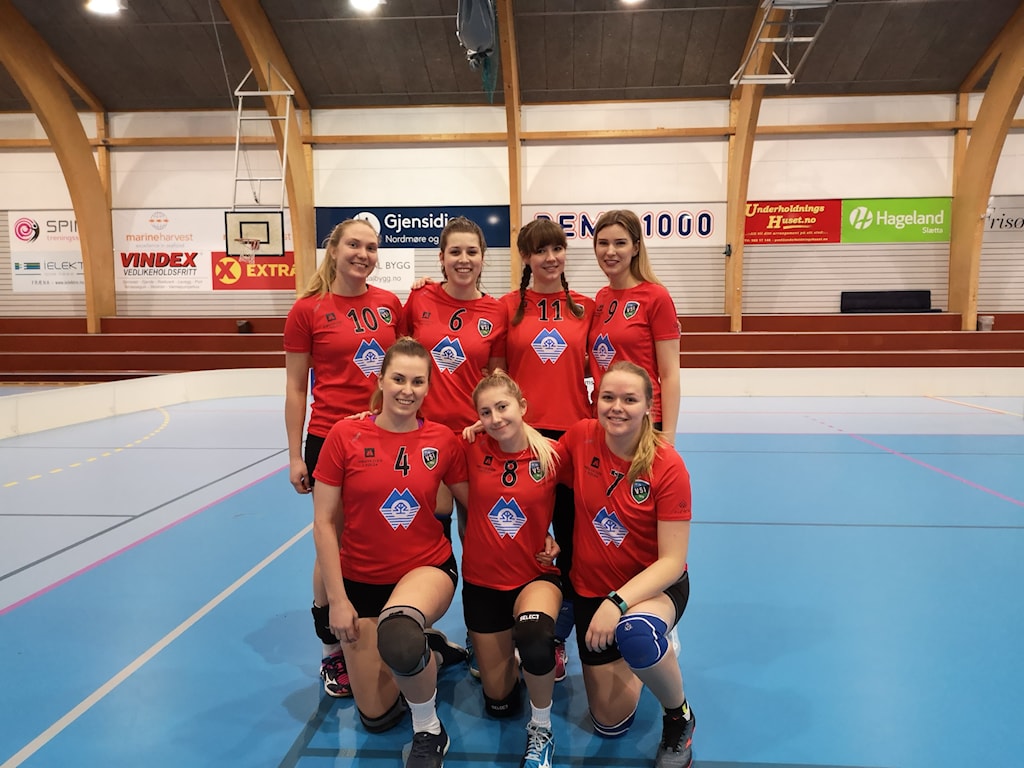 Halvveis gjennom sesongen har damelaget i volleyball rangert 6.plass i 2.divisjonen. I det siste har nye spillere bidratt til endring for laget, slik som Femke Vesters (Nr.6) som er en utvekslingsstudent og opplegger fra Nederland, som er med på lager for den andre halvdelen av sesongen. Til tross for korttids fravær og spillere som måtte spille på uvandte posisjoner, klarte likevel laget å vinne kampen forrige helg mot Fræna VK med 3-2 i sett. Det var en intens kamp hvor alle ga sitt beste, som da resulterte i å vinne viktige poeng og motivasjon for de kommende kampene. Laget besto av Ingrid Nilsen, Femke Vestre, Christina Wilke, Lea Albertsen, Tiril Skjølsvik, Sunneva Gimmestad og Ingrid Kolseth.
Vi vil gjerne takke våre samarbeidspartnere (sparebanken Møre, Furene, Høyskolen i Volda og Marias Resturante) for støtte gjennom sesongen, som gjør det mulig for oss å fortsette å spille i divisjonen. Vi vil også takke venner og familiemedlemmer som fant veien til Frænahallen forrige helg (27.1.19) for å støtte oss!
Neste kamp for damelaget vil ta plass i Voldahallen Søndag 10.februar, hvor vi spiller mot SIF/Hessa IL og Ålesund VK. Vi håper at så mange som mulig av dere kommer å heier oss til en ny seier på hjemmebane! Inngang er gratis som vanlig!
//English//
Half way through the season, the Ladies Volleyball Team is ranked 6th place in the 2nd division. Lately, new players brought a wind of change to the team, such as Femke Vesters (Nr.6) who is an exchange student and setter from the Netherlands, joining the team for the second half of the season. Despite some short-term absentees and unusual filling of positions, the team could win last weekend's match against Fraena VK with 3-2 sets. It was an intense match with everyone giving its best which resulted in winning some important points for the division and a lot of motivation for the upcoming matches. The team consisted of Ingrid Nilsen, Femke Vesters, Christina Wilke, Lea Albertsen, Tiril Skjølsvik, Sunneva Gimmestad and Ingrid Kolseth.
We would like to thank our collaborators (Sparebanken Møre, Furene, Høgskulen i Volda and Marias Restaurant) for the support during the season, making it possible for us to keep playing in the division. We also want to thank the friends and family members that made their way to Fraenahallen last weekend (27.2.19) to support us!
The next match for the Ladies Team will be held in Voldahallen Sunday, 10th February against SIF/Hessa IL and Ålesund VK. We hope to welcome many of you to cheer us to another victory on homecourt, the entrance is free as always!
---
Kommentarer
Logg inn for å skrive en kommentar.
Siste fra Christina Wilke