Postet av Christina Wilke den 13. Apr 2019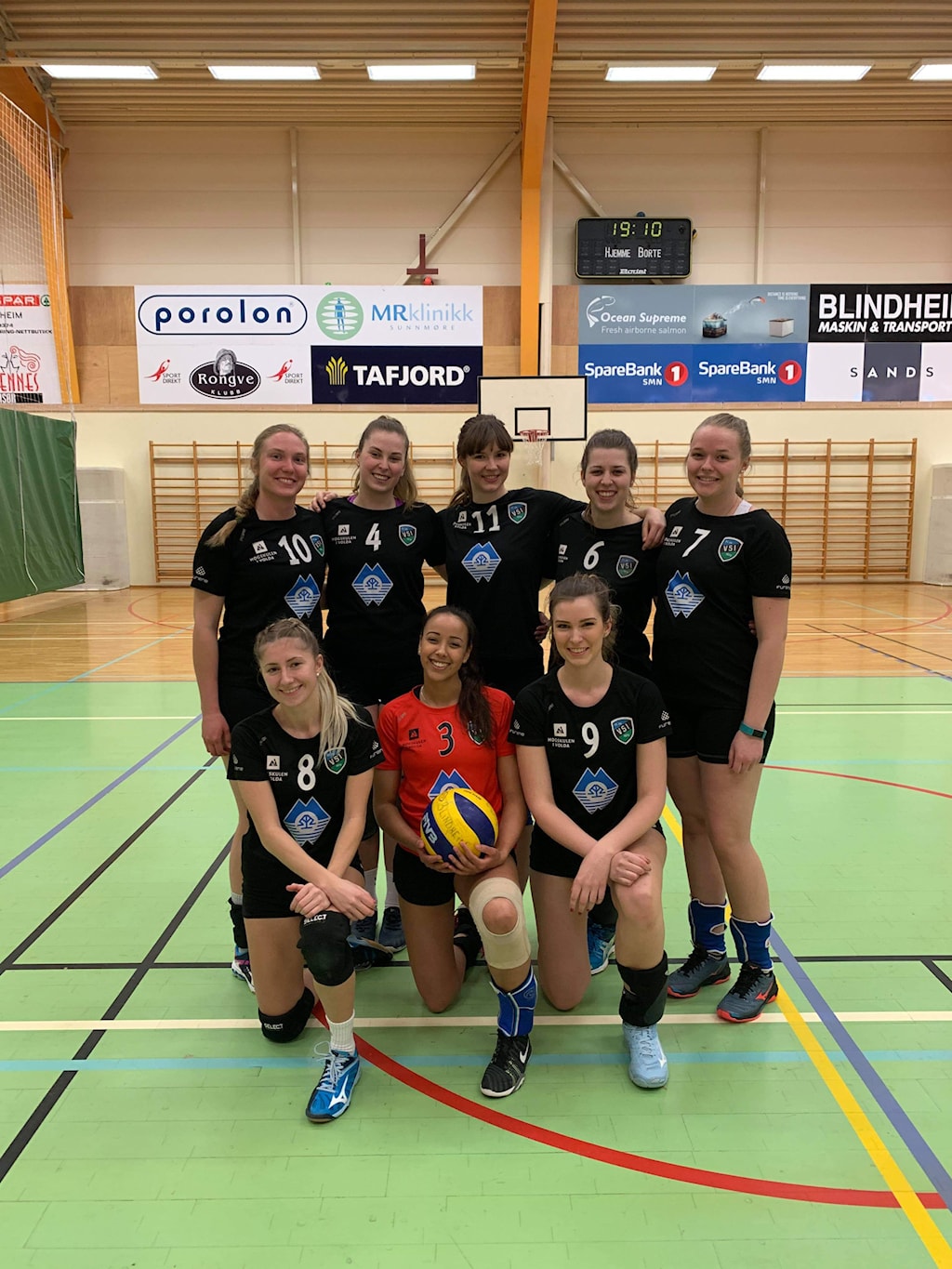 players from left/spillere fra venstre: Ingrid Nilsen, Tiril Skjølsvik, Christina Wilke, Femke Vesters, Ingrid S. Kolseth, Sunneva Gimmestad, Maryan Eriksen, Lea Albertsen
VSI dame laget vant 3-1 mot Blindheim IL 2 nå på torsdag. Dette var også sesongens siste kamp. Forrige helg tapte VSI dame laget 3-0 mot både Ålesund VK og SIF/Hessa IL. Framføringen gjennom hele sesongen vil resultere i 6. plass i divisjonen, men det er forsatt noen åpne kamper for andre lag som da vil bestemme dame lagets endelige plass i divisjonen.
Vi gjorde vårt beste og er fornøyde med resultatet og hvordan laget har utviklet seg gjennom sesongen. Vi vil takke våre sponsorer Sparebanken Møre og Romsdal, Marias restaurant, Furene og Høgskulen i Volda for støtten gjennom året og håper at vi kan fortsette å spille i andre divisjonen i neste sesong.
Desverre så må vi si farvel til noen av våre spillere på grunn av at der er ferdige å studere i Volda. Så hvis du er lidenskapelig for volleyball og en skikkelig spiller, så er du velkommen til å bli en del av laget for sesongen 2019/2020. Hvis du er interessert, vær venlig å delta på volleyball treningene og/eller kontakt Tiril Skjølsvik.
// English version//
The VSI Ladies Team could win 3-1 against Blindheim IL 2 last Thursday. It was also the last match of the season. We are happy that we could finish the season with a victory. The weekend before though, the Ladies team got beaten by Ålesund VK and SIF/Hessa IL each with 3-0. The performances through the whole season will probably result in the 6th place of the division. But there are still some open matches of other teams that will decide also about the Ladies Team's destiny.
We gave our best and are happy with the results and how our team developed through the season. We would like to thank our sponsors Sparebanken Møre og Romsdal, Marias Restaurant, Furene and Høgskulen i Volda for the support throughout the year and hope that we can continue playing in the second division next season.
Unfortunately we have to say goodbye to some of our beloved players, since they are done with studying in Volda. So if you are passionate about Volleyball and a decent player, you are welcome to join our team for the season 2019/2020! If you are interested, please join the Volleyball practices and/or contact Tiril Skjølsvik.
---
Kommentarer
Logg inn for å skrive en kommentar.
Siste fra Christina Wilke